Party Secretary of Weihai, Zhang Haibo, visited Bangde
Party Secretary Zhang Haibo visited Huancui District and Economic Development District on April 14th for research and supervision of key programs and reopening of high school senior year. He put emphasis on the need to strictly implement the prevention and control measures within enterprises, construction sites, schools, and etcetera, in addition to promote the establishment of project, maintain the order of normal life and manufacturing. Municipal Standing Committee, Secretary General Li Jian participated in the activities as well.
At 11:00 am, Zhang Haibo visited Bangde to guide the manufacturing and prevention work, during which he had a comprehensive understanding about the progress of digital production regarding the line expansion program. He encouraged us to seize the market opportunity, accelerate the intelligent and digital transformation, so as to obtain a greater development space. Zhang Haibo also proceeded a work-related communication with the director Wu Guoliang in the workshop.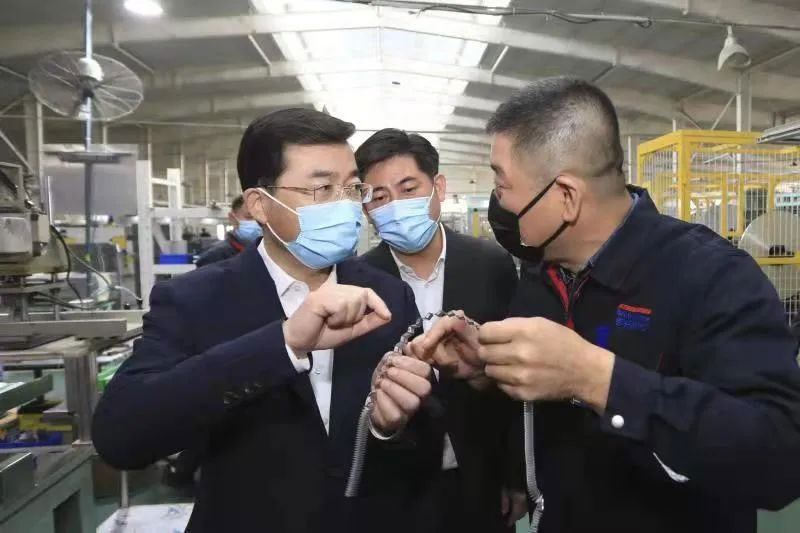 Zhang Haibo stressed that the current epidemic prevention in the city tends to be stabilized and consolidated. Various field and industries should take precautions measures strictly in order to maintain the normality of life and manufacturing work. The construction of key project and formation of physical workload should be promoted on the basis of ensuring safety. We should combine the efforts of rectifying inefficient land use, planning specialized industrial park, and concentrating scattered business to form an agglomeration effect and achieve the upgrading of industry. We should also plan urban industrial parks practically, break through the conventional concept, and accelerate the development of urban industry to seek greater development. The government needs to provide precise services for enterprises in need, solve the problem regarding talents and logistics timely, and help them expand their production capacity, improve efficiency, ensuring a faster and better development.
Source: Weihai Daily